8 Steps to train for the Dead Sea swim?
*Before we start…


On  Tuesday November 15th  ,2016 Alongside the EcoPeace foundation, we will hold attend the 1st ever international swim event – a challenge to swim across the Dead Sea.
As the lowest point on earth, and the deepest hyper saline lake in the world, the Dead Sea is a natural and historical wonder. Tragically it is disappearing before our eyes.  Over the last 30 years, the Dead Sea's water level has dropped by more than 25 meters. Due to governmental and economic policies of water diversion and mineral mining, the Dead Sea is rapidly shrinking and in danger of disappearing altogether.
This bold and risky challenge will include the crossing of the sea by a group of Jordanian, Palestinian Israeli and international swimmers.
Goal
Raise awareness of the importance of stabilizing the Dead Sea's water level, and to call upon Israelis, Jordanians, and Palestinians to take responsibility by working together to stop the ecological disaster of the sea's rapid demise.
The challenge is not only faced by the swimmers but on the governments to bring back the 800 million cubic meters of water needed to stabilize the Dead Sea.
Who's on the Team
EcoPeace Middle East, represented by its 3 Jordanian, Palestinian and Israeli Directors; World Open Water Swimming Association (WOWSA), The Cyprus-Israel Swim Team, Mad Swimmers (South African Charity), and more to come!
1st Step:  Joining the swim
Send an email to Oded Rahav [email protected] (Manager and organizer of the team) Or Coach Ori Sela [email protected](professional Manager and coach)
2nd Step: Learning about the mask
Read about the mask and buy a scuba mask for the mission 
** Start working on your distances>>
3rd step : Feeling and improving our lung capacity 
Swim ones a week with the mask 2k, next week 3k, 4k & 5k your goal is to swim and get used to the gliding in freestyle(It's not possible to touch shoulder to cheek) but especially to get used to swimming Hypoxia, which means getting used to swimming with 50% air.
For example, a  swimmer that swims 15 min for 1k will swim swim at the same pulse 22 min, your goal is to swim with the mask on no matter what 🙂 after 2 months you will feel amazing and it will help you in your normal swimming.
4th step- Swimming and eating on the way.
At first we will try to eat every 45 min and not every 20-30 min because when putting the mask off you need to wash hands, face, mask then eat, wash again…
But especially we ware of cleaning you eyes with you hand, because on the swim you can be blind for 10 min or more….
5th Step dragging water behind you and swimming in pairs.
When water gets in your mask you need to put the mask off fast and wash your eyes.
6th step- Learning to swim from 5K to 15K
One of the most important things is to know how to clean you friend mask and continue swimming in less than 1 min
You don't need to swim the long distance week swim with the mask but ones a week practice 7K mask swim for 2 months.
The swim is very challenging and dangerous, you know how it starts but don't know how your body will react on 36% salt?
But it most of all a friend international open water swim to help nature.
We are here for you [email protected]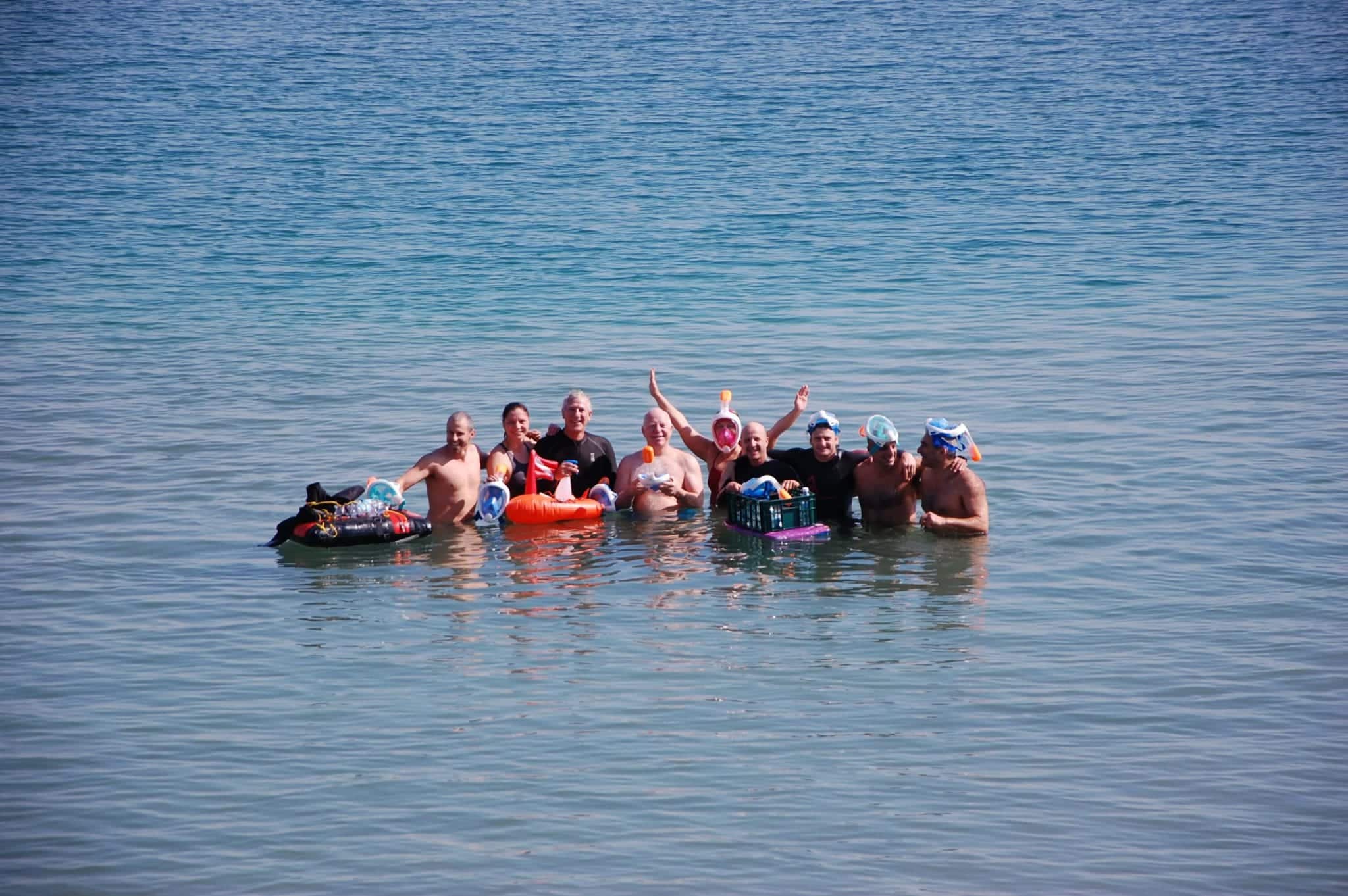 7th Step: meet amazing people on the way…
8th Step: smile all the way
** Training program to swim 10-12K in open water (from 3K to 12K in 4 months) >>>