Ilanit Yurman #1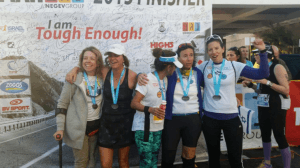 I met Ori Sela and the WEST swimming technique about a year ago, after a very unsuccessful swim in the Red Sea in Eilat triathlon.
I finished the swim leg of the race, way beyond the cut off, with a broken body and spirit.
A good friend recommended "Ori Sela's Water World".
"I met very few magicians in my life, Ori Sela is one of them".
With very little confidence, I came to my first private session.
Just a little bit about me. I lost my left leg at the age of 9, due to deadly cancer. I lost a leg, but survived, not like many others, so consider myself lucky.
Nevertheless, I live a fulfilling life, have a lovely family and a career.
I became a triathlete few years ago, thanks to Hezi Roll, who believed that blind and disabled people can run, bike and swim.
I was swimming very slow, with short strokes, and a lot of neck and low back pain.
Ori took a long session of analyzing my swimming, with photos and videos. After that he made a promise "you will swim a lot better, faster, without any pain. It might take a long time, but you can do it".
With the passion in his eyes, he looked at me and sent me to another 25 m.
He is not man that wastes time.
To make a long story short, a year later and I just finished the swim leg of Eilat triathlon, and the swim leg of Israman in a personal record result, and yesterday sawm 5 km for the first time!!!
A day later, no pains! My body has no stress, and I'm waiting for tomorrow for my masters training.
I enjoyed every moment.
To be continued..,