How do you summarize a week of European short course swimming competition?
A swim with with Erik Van Heijningen President of KNZB, Vice-President of LEN
For a whole week I volunteered with the British swimming Team. I wanted these people, who normally don't visit here, to see Israel the way it should really be seen: the amazing, warm people and beautiful places.
It wasn't an easy decision, to leave my family and work for a whole week, but my country is part of me, this is who I am, the blue and white (Israeli flag colors) are a part of my DNA and for the past 20 years those have been the colors of Water World.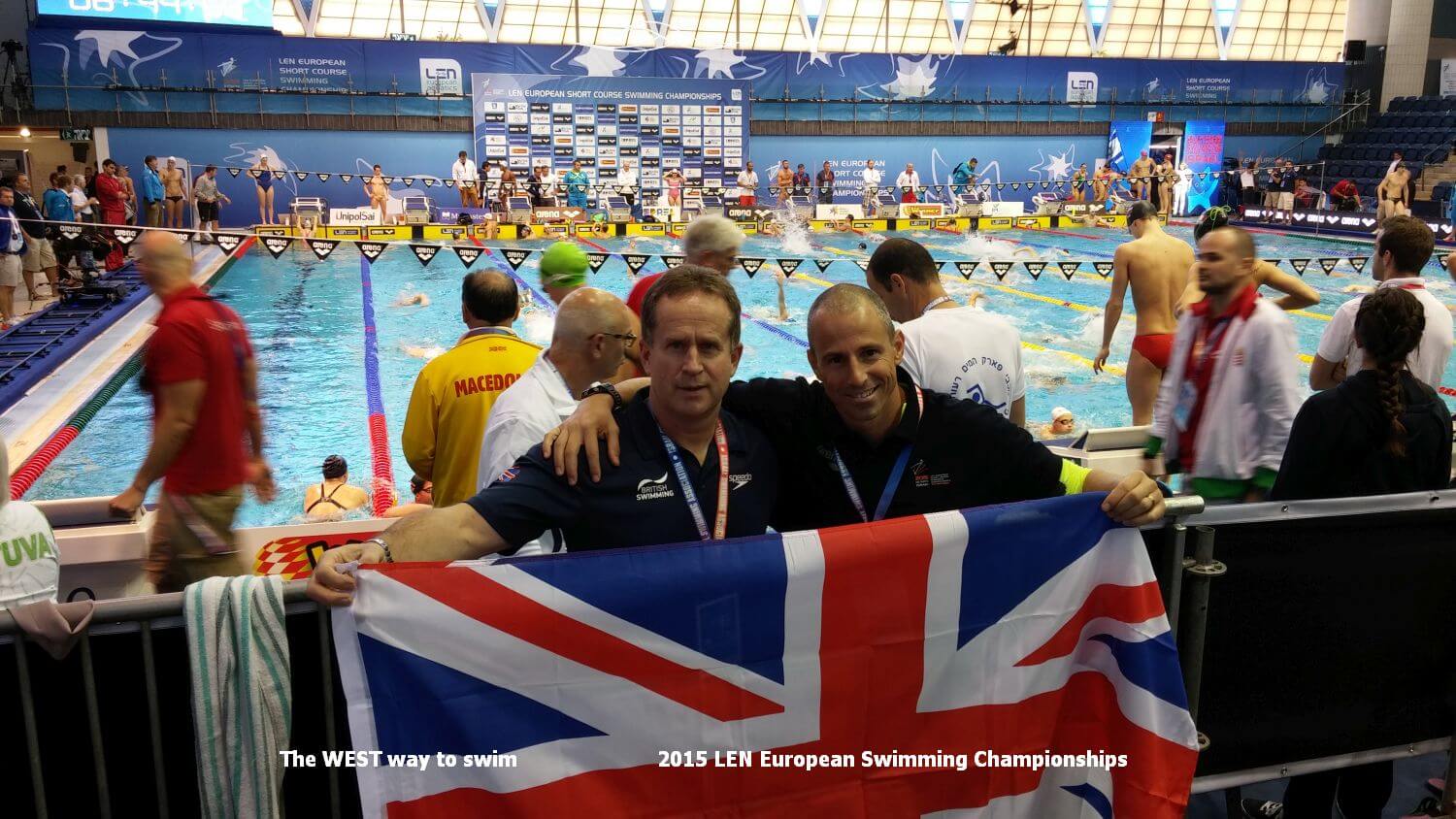 I emailed Rod Wardle, the Team Manager, and this is how it all started. 2 days later they landed in Israel and were on their way to Netanya for the European short course swimming competition.
I am really grateful for this opportunity to help the team on their stay but more than that I was blessed to meet so many amazing people on the way, from the Head Coach of the British Team – David McNulty, Coach Mel (Melaine Jayne Marshall), Jane (their Physical Therapist) and the whole team.
I want to start with the first day. Most swimmers were taking it easy at that stage, saving their strength for the semi-finals and finals. There were not many people in the stands, and they weren't paying very close attention, when all of a sudden I saw somebody shouting enthusiastically next to me. It was Coach Shane Tusup, the husband and coach of Katinka Hosszu – one of the best swimmers in the world.
It seemed like coach Tusup knew his wife's breathing, knew her times. It was like they were connected in a way people can't even imagine. He moved his head as though he was breathing when she was, moved his body like he was there swimming with her. He was saying "2:04", and then "2:04.3. 2:04.3", and the people around him started chearing with him. The clock showed 2:04.32 at the finish of that 200m swim (100 fly and 100 back) – almost 2 seconds faster than the World Record held by Mireia Belmonte Garcia. Katinka Hosszu broke the world record and the crowd just loved her here in Israel.
The 400m I.M men was one of my favorite swims, not only because this was my specialty swim as a child but because 2 swimmers had a chance to take a medal: Roberto Pavoni, the British swimmer (with whom I had been the entire week), and Gal Nevo the Israeli.
I was sitting there with two flags in my hands, the British flag and the Israeli flag, but my heart was filled with pride to see our swimmers getting medals.
In the end David Verraszto took the gold medal and the British swimmer Roberto Pavoni took the silver, but the crowd really went crazy when Gal Nevo touched the wall as though he had just broken the world record. But for me it was even better, since I knew how hard Gal worked and I knew how he wanted to take a medal at this event.
For me Gal is a true athlete. He helps thousands of kids to understand the importance of swimming, he will always smiles even when he loses and at the end he said this medal was for his fans. Gal was about to quit swimming, but his fans convinced him he should continue, and he says he owes 70% of his achievements to the home crowd. We know it's lots of hard work but we love him even more for saying that. I almost cried at the medal ceremony as if the Israeli Anthem was being played.
The crowd went crazy a second time when Toumarkin took second place in the 200m back. He really has a chance now to do something no Israeli swimmer has ever done: to take a medal in the Rio Olympics. I really hope it's going to happen.
And went really crazy when 2 of the top Israeli swimmers Jonathan koplev & Guy Barnea took 5 and six in the final 50m backstroke.
Back to the British Team:
In the picture Adam Peaty and Chris Walker with Coach Ori Sela and Yifat Knop.
Adam, despite being a world record holder in the 50m and 100m breast, lost his 50m breaststroke in 0.01 second. It must have been very frustrating for him to lose the gold medal. But Adam was focused on the 100m, and it really looked as if he was going to take it big time, but his turns and jump cost him the gold medal, and he came in second. His Coach Mel Marshal said that he could have won it but they made a decision to work on his power and not on his turns, in order for him to be ready for the Olympics. Baby faced Adam also gained 10 kg in muscle mass and lost body fat.
We will cheer him in 2016.
Before we continue we need to consider this very important question –  who has the best body? As you can see it is really hard to choose:
The Italian swimmers:
Or the Israeli swimmers:
And now for the women:
Estonia women swimming team
Italy with Federica Fellegrini
Or Zsuzasanna Jakabos from Hungary:
The crowd gave the first place to Jakabos.
Two of the fastest female swimmers Sarah Sjostrom and Ranomi Kromowidjojo

Both of them train very hard in order pull more water, each swimmer doing something a little different in her training. An hour before the competition, and I am talking about the 50m freestyle and the 100m, Sarah was speeding and swimming a little more distance and Ranomi was speeding 10m against a rubber band with her Coach pulling her back, repeating this exercise 20 times. Her pulse was high, but she still controlled her amazing swimming technique all the way. Sarah took the 100m and Ranomi the 50m.
I have so many stories about Liam Tancock, the world record holder in the 50m back, about Hannah Miley, Andrew Willis, Siobhon O'Connor and many more swimmers from the British swim team and from all Europe but I want to finish with 3 names: the first one is Georgia Coats. She is only 16 years old and improving at a crazy rate. Remember that name.  You will hear it over and over.
Georgia Coats                                                    Fist row(left to right) Georgia. Chris, Liam . Second row: Siobhon, Jazz, David, Roberto, William
The other two names are the top 2 swimmers in the European court course swimming competition as I see it. The first is Laszlo Cseh. This man not only swims beautifully, but is such a good conversation man that you can talk with him for 30 min on the bus and he will tell you many things about his swimming, goals, training, etc. The crowd loved him so much that they preferred that he take the first place rather than one of their team. He is such an inspiration!
The last swimmer you need to remember is Jazz (Jazmin) Carlin who competed in one of the last swims against Katinka Husszo in the 400 freestyle. They were both together to the end, and I have to say it was the first time in the competition that I didn't want Katinka to win, not because she wasn't amazing, but because Jazz has this beauty and smile.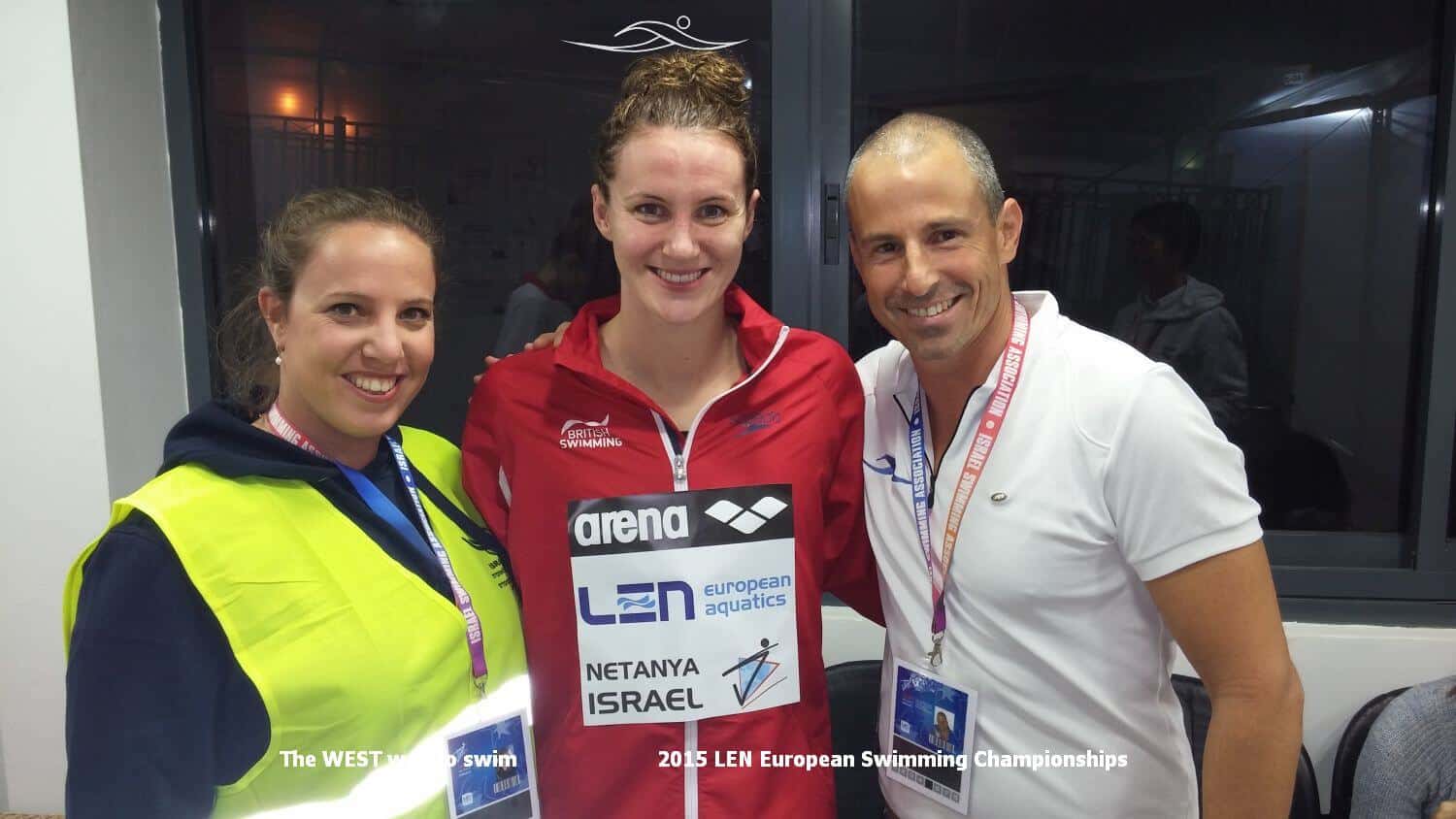 Jazz won in 0.03 second and took the gold.
An amazing competition, with a world record at the 1500m freestyle, Toumarkin took another medal and the Italian team won the relay.
First of all as a Coach, a swimmer and a volunteer, this was a dream come true, meeting so many amazing people, coaches and swimmers, talking to them and learning from them.
Thanks Rod (Team manager of the British swimming team)thanks to the Israeli swimming federation  for allowing me this great opportunity   !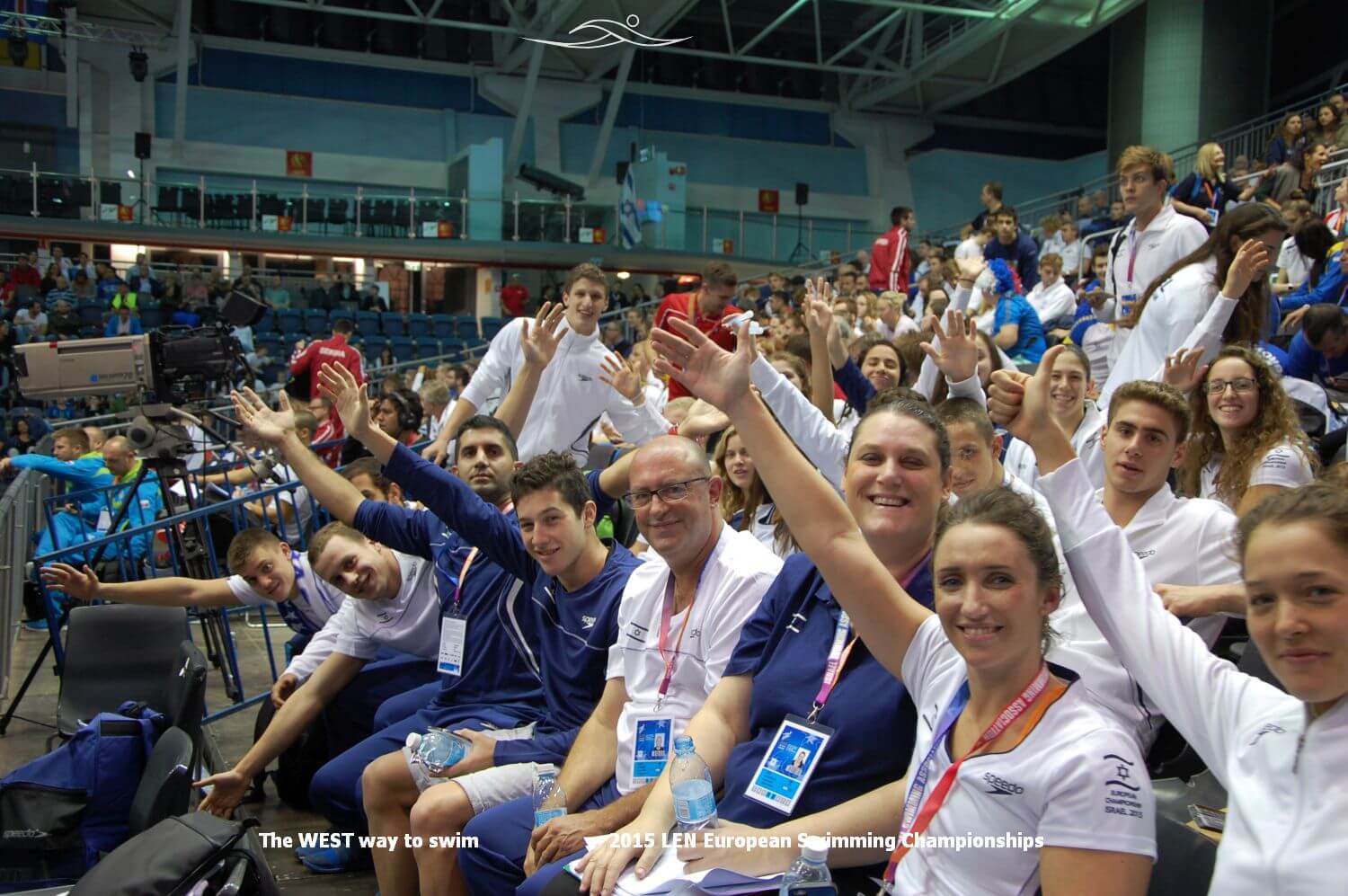 Israeli swimming team cheering …..